The theme for April's Recipe ReDux is Easy Ways to Reduce Food Waste:
In honor of Earth Day on April 22, we're challenging ReDux members to show how they reduce food waste. Whatever you would normally toss, use it up. Share tips for reducing food waste in meal planning, prep or using up scraps.
One of my favourite ways to reduce food spoilage and waste is to pop fruit in the freezer when it starts to show signs of going soft. These little bags of fruity goodness can then be turned into muffins, crumbles or smoothies when I have a chance.
Reduce Food Waste Tip:
As soon as you realise you're not going to use an item of fruit, chop it up, bag it up and freeze it. Peel and chop bananas, core and slice apples and pears, hull strawberries, destone and chop plums, mangoes and other stone fruit. Pop them in sealable sandwich bags and place them in the freezer ready to use when you fancy.
On an entirely unrelated note, I do have some exciting news to share: we are expecting our first little one!!! Little Man Meyer is due to make his appearance in just three weeks!!! We are overjoyed and can't wait to meet the little guy (all the exclamation points) and have spent the last few months doing everything we can to prepare for the unpreparable (that's a word right..?).
Part of that prep has been that we invested in a chest freezer and have been stocking it with frozen meat, fruit, muffins and meals to help take the pressure of during those first few weeks. My top tip for avoiding waste with a nice big freezer – is to keep a list of what's in there – keep a list in a plastic sleeve with all the food listed with little check boxes to allow you to check it off as you use it (and avoid finding that rouge year old pack of chicken breasts down the line).
Reduce Food Waste Tip:
Keep a list of what's in the freezer and when each item was frozen. Place this on the freezer door for easy reference and use items before they pass their prime.
With just three weeks of this pregnancy left to go, today's recipe is a super simple smoothie with just three ingredients:
Strawberry, Banana & Almond Milk Smoothie
Ingredients
¾

cup

frozen strawberries

1

frozen banana

1

cup

unsweetened almond milk
Method
Combine all the ingredients in a blender and blitz to desired consistency.
Notes
I like my smoothies very liquid, if you prefer a thicker consistency, substitute plain yoghurt for some of the milk.
For more tips to reduce food waste and your carbon footprint, check out my Eating Green post.  Also be sure to check out how my fellow ReDuxers tips and recipes for this month: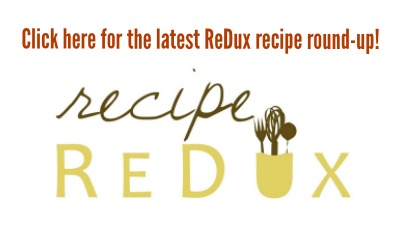 Enjoy!
Cheryl x