The theme for this month's Recipe ReDux is Budget Eats:
How low can you go? Can you make a meal for less than $3 per serving? Whatever your budget, show us your healthy entree recipe to help keep food spending in check in 2017.
When M was still a student and into his internship and community service years cost-effective meals he could take with on 30-hour shifts were a big thing! Between leftovers and make-in-bulk to freeze we bumbled along but there definitely a few ready-meals thrown in there. That's where the idea for this recipe comes from – I&J do a range of frozen curry box meals, and this used to include a delicious lentil curry, our favourite! They've long since stopped making this one, so I decided it was high time I tried to revive it and give it the ReDux treatment for a homemade healthy-twist:
Lentil Curry
Lentils they make for a delicious, budget-friendly curry base (even better as leftovers the next day)!
Ingredients
1

cup

dried brown lentils

1

onion,

chopped

2

teaspoons

olive oil

1

heaped teaspoon crushed garlic

1

heaped teaspoon crushed ginger

1

teaspoon

curry powder

(I use medium hot)

½

teaspoon

turmeric

A pinch of cayenne pepper

1

tin (410g)

tomato puree or chopped peeled tomatoes,

pureed

1

cup

water

salt and pepper,

to season

¾

cup

evaporated milk

1

teaspoon

garam masala

optional: fresh coriander to garnish
Method
Cook the lentils as per the package instructions (I boiled for 20 - 30 minutes). Drain and set aside.

Sauté the onion in olive oil until soft.

Add the garlic, ginger, curry powder, turmeric and cayenne pepper and fry until fragrant.

Add the tomato puree, lentils and water, season with salt and pepper and reduce the temperature to a simmer for 20 minutes stirring occasionally. Keep an eye on it in case you need to add a little more water.

Stir through the evaporated milk and garam masala and simmer for a further 10 minutes.
Notes
For a vegan option, sub coconut milk for evaporated milk.
Serve with rice or try these delicious wholeheat flatbreads from The Lean Green Bean (note on South Africanising the recipe: we used white bread flour).
Budget-wise this lentil curry comes in at R6.81 per serving (a mere 50 US cents) – what a budget win! January can seem like a LONG month, after the festive session, until your next pay check.  For more of my tips to help reduce your food bill through both healthy and cost-effective choices check out my Healthy Eating on a Budget post.
Also be sure to check out what my fellow ReDuxers have come up with this month!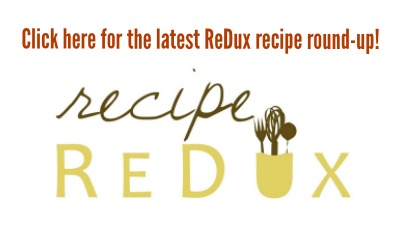 Cheryl x